Due in large part to the ever-increasing tedium of winter, the number of tote bags featured in the blogging world has recently exploded. I've been seeing them everywhere. Tote bags mean picnics in the park, afternoons at the beach, shopping at the farmer's market...sun! We're all desperate for it.
I'm no exception. I am currently engaged in a very serious quest to create the perfect tote bag. When summer finally rolls around, I'm going to be ready. I refuse to be one of those people caught flat-footed who have to carry stuff around in old plastic grocery sacks. No, when I go to jazz in the park this summer, I will be ready with my very own "Be Prepared" bag!
Last week I made my first sample with the Alexander Henry fireman pinup fabric. I absolutely loved it at the time and I still like it...its pretty dang cute...but I have since improved my pattern. The new sample I made this weekend is GLORIOUS. I widened the straps, tweaked the dimensions, added interfacing and more decorative elements. I am so close to tote bag nirvana that I can smell it!! .
Meet "Be Prepared" variation two..."KP Patches". (In case you haven't noticed by now, I name everything).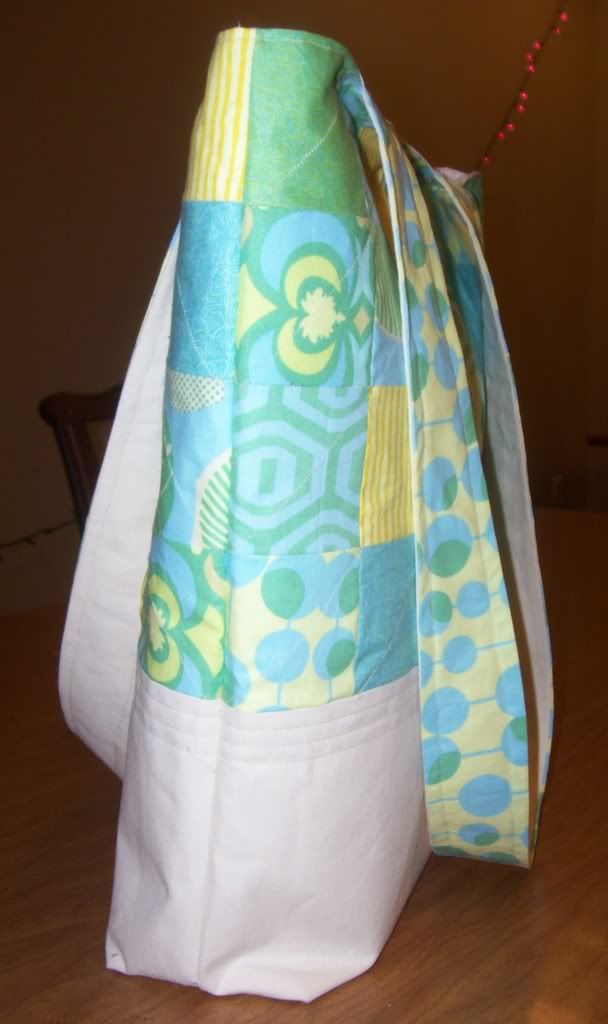 The tutorial that I mentioned previously is still in the works. I have the instructions all written up, I just need to take some process pictures to illustrate them! I hope to have it up by the end of next week.