Well boo! This was a cruddy week for posting. I have lots of things in progress right now, but nothing in a really postable state. I'll have a big update sometime this weekend hopefully.
In the meantime, however, its Fabric Friday!!! This week, I decided to indulge my inner love of fabric bundles. I love half-yard sets, they are my ultimate weakness. They're all so pretty and full of possibility...
Like this beauty. The Mendocino line by Heather Ross is one that I always am tempted to indulge in. The lovely pastels are contrasted by richer browns and gold and highlighted by splashes of orange and fuchsia. The movement in the fabric is fantastic, and from what I've seen online, it makes amazing quilts!
This Michael Miller set is a favorite too. The prints are cute, and the colors are genius. The chocolate brown keeps the palate from looking too nauseatingly Easter eggish. It adds a richness and depth to it.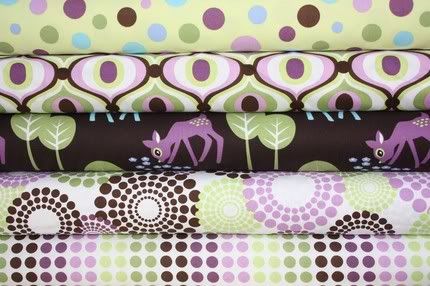 And I saved my favorite for last! This Paula Prass Flights of Fancy bundle looks slightly medieval to me, which is probably why I like it soooo much. The modified quatrafoils at the bottom are definitely gothic, and the knot/chain motif on top is very Anglo-Saxon. I can even image seing something similar to the second fabric in the marginalia of a manuscript. The colors make it modern...its a cool contrast between old and new.