I just realized that I have yet to post a follow-up to all the swaps that I participated in last month. Gawd, that was dumb. Sorry swap buddies...you ladies rock.
My swap partner for
Darci's
swap was
Tiny House
and man oh man did she hook me up! In addition to these two gorgeous fat quarters, she sent me an adorable pin cushion and pouch! Both are already in use. Plus, the whole package smelled AMAZING.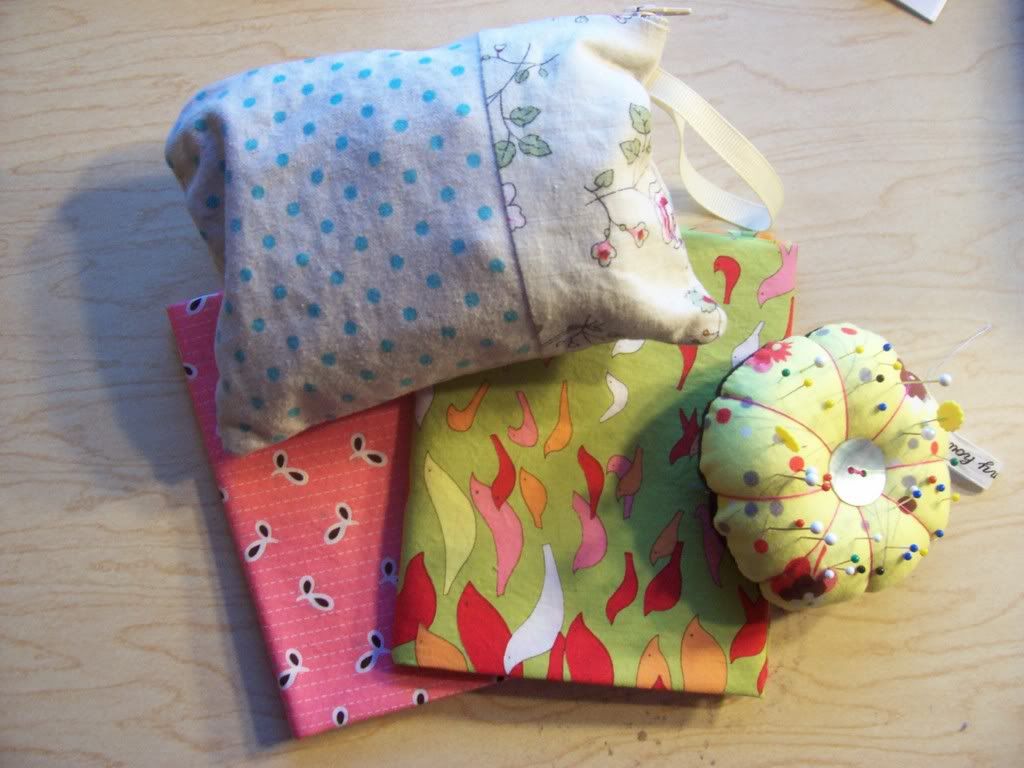 I also participated in the
Sew Mama Sew
swap. My first partner,
Kate
, sent me this awesome package. I love how bright the two fat quarters are. I'm been buying a lot of really low intensity fabrics lately, so these were a nice change. I'm using them in my pencil pouch pattern that I'm working on. They're perfect for it! Kate also included these amazing vintage postcards. I put them in my cubicle at work to jazz it up a bit, and they look so cute there! I just love them.
Sadly, I don't have blog contacts for my other buddies. This beauty is from Kaitlyn. I haven't decided what to do with it yet. I'll try to
doodle
something up next time I have religion class..:)
These are from Kathy. Again, I was happy to get so many bright prints, since that's a big gaping hole in my stash. I think I'm going to save this for a bit. As soon as I graduate, I'm going to rescue a cat...I've been missing furry companionship lately. This fabric would be perfect for making some pet accessories!
And last, but not least, these are from Katherine. What's really cool about these two fabrics, is that they coordinate amazingly well with my scraps. I don't know how that happened, but it must have been preordained or something. I already cut up the blue to make a new version of my
"Be Prepared" bag
. My mother was lamenting that she didn't have time to make one, so I thought I'd do it for her. So Ma, you're getting blue and brown with neutral canvas...I hope you like it when its done!
So, thank you, thank you, thank you swap buddies!!! You really went above and beyond the call. My first swap was such a positive one!