I was really touched by
Jacqui's
blog entry on Wednesday, where she thanked a few of the lovely people who have been helping her with Project Improv. Both Kathy at
Pink Chalk Studios
and Jane at
Jane's Fabrics
really went above and beyond the call of duty. Quilters really are a special bunch. Jacqui suggested that we consider buying fabric from these two special ladies to thank them for their contribution. I think this is a fabulous idea, but unfortunately, because of the freeze, I trying not to do that. I do want to make my support known, so instead, for this Fabric Friday, I'm doing all my window shopping at these two stores.
My friend Anna actually picked this lovely print out. We were browsing around trying to find more sexy fireman fabric (she wants boxers and a bag) when we stumbled on this one. She absolutely loved it, and as I started to look at it closer, I did too. Its not something I would normally pick, but I think it has a lot of potential. I love how the busy background makes everything blend together. Its only when you really focus on it, that you see all the details. My theory is that if you can't stop looking at it, its got potential. No one wants pretty and forgettable. A little weird and memorable is a far better combination.
My second pick for the week is another funky stripe. Can you ever have too many of these? I don't think so...they're so versatile! This one is from Sue Zipkin's Samba line. I love the way she included triangles and polka dots. Its really cute and fun!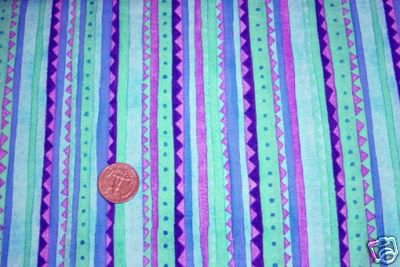 For a while now, I've been wondering if there is something missing from my essential make up. Here it is, the dark truth...idon'tgetthewholefussaboutjapaneseimports...don't judge me! I mean, they're so expensive! I would only get half as much fabric for the same price! I would rather just indulge in Free Spirit amazingness. BUT THEN, I saw this little cutie patutie, and I started to understand why everyone seems to be so gaga. I love those pigs! Look at the spider web on the top one's butt!
Ummm...I just realized as I was looking at these all together, that I have a color scheme going on here. Do you think I have enough blue and purple?