I have officially been bitten by the
Tina Givens
bug. Seriously, how can one human being hold so much fabulousness? There must be a max volume that one person can contain, and this lady has to be close to it. My fabric picks for this week are exclusively from her collections.
Now, before I get started, I have a tiny, itsy-bitsy, little confession to make. I
might
have accidentally broken my fabric buying freeze and purchased some of the Treetop Fancy collection. Its totally not my fault though! I heard that the sunset veranda print in the rasberry colorwave was on back order, and I had a panic attack. All of a sudden I was terrified that I would never own the line, and pictures of all the beautiful projects that I could make flashed before my eyes. I couldn't just let the opportunity pass me by!! This was a sign!! I bought a six pack of half yard cuts to calm myself down. It was totally a health issue. Besides, a six pack of fabric is better than a six pack of beer, right? Me=justified. The following things, however, are what I am NOT allowed to buy. Unless I have another health crisis that is.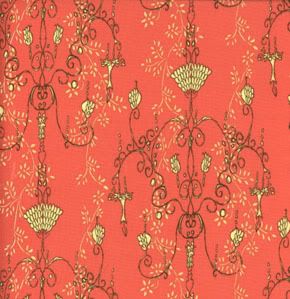 Yes, those are chadeliers, and yes, I completely love them. It's whimsical and cutsie and romantic without making me want to vomit. This is from the quickly disapearing ZaZu line. Click the picture for a link to a store that still has some, or search around the internet. Its luckily still around.
This next fabric also qualifies for the cutsie sans nauseau title. Actually, that's a theme of Tina Givens'...it applies to about everything. That's a compliment...in case it wasn't clear. Anyways, this fabric is from the Cloe's Imagination line, which aparantly was inspired by the garden at Tina's childhood in Africa! This doesn't look particuarly African to me, but whatever...its gorgeous!
This last fabric swatch is from the much adored Treetop Fancy line. I love the window pane motif in it. Again...whimsical. Who can't remember a time when he/she was stuck inside studying for a spelling test, or something equally as attrocious, and was reduced to whistfully staring out the window, longing to go out and play? I'm sure that we've all been there, and this fabric totally goes there too. Its just WAY too cool for school. Plus, it fits in beautifully with my six pack...