I absolutely love Thanksgiving, but its not a good holiday for productivity. You sit, you eat, you chat, you watch football. Oh, and you shop. Nowhere in there, do you craft. The baby belle blocks below I finished a week ago and never posted, because over Thanksgiving break, you don't blog either.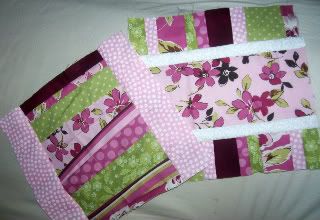 I'm really pleased with the way these turned out. I like the the background block uses a large piece of the pink, so it really gets shown off. I love the small pieces that I used in other blocks, but you can't really see much of the pattern. Its nice to have a good mixture of both. I like the randomness of the foreground block too. I just sewed the pieces together randomly, not really worrying about whether the pieces were straight or not. I think they both came out really well.
This is a busy couple of weeks for me, so I'm not really sure what I'll have time to do, but up next are my triangle blocks. I'm excited to play with those!