Gentle readers
, I have made a discovery. I am TERRIBLE at knitting. Atrocious, abysmal, cataclysmic even. I have ripped out the meager beginnings of my scarf more times than I can count. I accidentally added stitches, dropped stitches, and somehow did the purl stitch backwards. In fact, in so doing I may have invented a new knitting stitch. Its ugly. No one would purposefully want to reproduce that stitch. In fact, after watching the entire first disk of
"Brideshead Revisited"
, I have only produced about six inches of knitting. (Amazing mini-series by the way...watch it).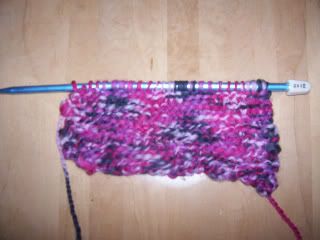 I even managed to bend my needle somehow. If you look in the picture, you can see that its slightly curved. It was worse earlier, but I managed to bend it back a bit. I feel that this entire experiment is quite funny in a pathetic sort of way. I should have been satisfied with sewing, but NOOOOOOOOOOOO...I wanted a portable craft to take on the bus with me! Ah well...regardless...the yarn is pretty, and when I finally finish, I will have a lovely scarf to keep me warm all winter long. And besides, I think I recall being abysmal at sewing when I first started that too.