One of my favorite things about quilting is sharing what I make with others. Unfortunately, quilting gifts makes this hard to do. That's one of the reasons that I wanted to start a blog...so I can share my secret quilts!
In about six months, I will FINALLY graduate from college. Yay me! After my sophomore year, I decided to make quilts for my friends for graduation presents. Several of them had already asked me for quilts, so I decided that this would be a great time to do so. I decided to use the same pattern for everyone. I chose "Between Friends" from the book
"Happy Hour"
. It's an easy pattern that's a lot of fun. Its an anything goes quilt...you can really be creative with your fabric choice.
This is the first one that I came up with, and I'm not giving it away! I love this quilt. I'm a terrible photographer, so its difficult to see from the picture, but its really cool, I promise! My favorite thing about the quilt is the stripes that I used. The yellow has a thin brown stripe and the larger teal, gray, and yellow is visible. I think they give the quilt a lot of interest.
Above is the next one that I made. I used all Amy Butler Fabrics and I was pretty happy with the way it turned out. Again, sorry for the crappy photography. It looks so much nicer in person. The one thing that I didn't like was the pesky L's that I ended up with (see the orange polka dot on the left). I corrected that in later attempts.
This next one is my favorite. I love the colors and I think it blends so beautifully! I'm not sure I want to part with this one... It was also really inexpensive to make. All the fabrics were on clearance.
The rest of my tops haven't been quilted yet. I don't have a machine that can do free motion at school. I need to wait until I go home for Christmas. This next one is a little wild...I wish I would have put some quieter fabrics in to calm it down. All in all though, I think its nice. I love the green and brown and blue together. Its a nice color scheme.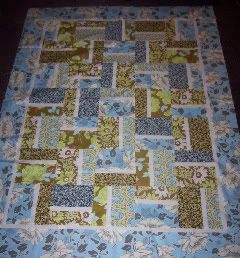 Next is my least favorite version. The colors just don't really do it for me. While they each individually match my boarder, they just don't really blend so well. I hope I'll like it better once its quilted though. I frequently am dissatisfied with my quilts until I get them completely finished.
And last, but not least, my latest effort. I love this one. I spent a lot of time looking for fabric, but it was worth it. I started with the four Midwest Modern prints and then added the green and blue from the Mendhi collection. I love those two...its hard to see in the picture, but they have a pattern that reminds me a lot of the hashes used by favorite artist Jasper Johns. Plus, neither are flat shades. There are bits of yellow, blue and green in the fabric. I love the yellow too. Its a stripe (which I always like to include) and the brightness of it keeps the whole quilt from being too sherbet-ish.
Well, that's all of them! I have a few more to make and them a lot of free motion quilting to do. I'm getting a bit tired of the pattern though. I might try something different and come back to finish up my last couple gift quilts a little later.