About a week ago, I was walking back from my local fabric store (where I did not buy anything I might add) when I ran into two friends of mine. They were headed down to
Webs
, the local yarn store. They proceeded to tell me that this was the largest yarn store they had ever seen, that people came from all over the country to shop there, and that they offered student discounts. I had no idea that the yarn Mecca of America was located less than a mile from my house. Intrigued, I tagged along. It was AWESOME!!!! I don't even really knit, and I still had to buy yarn. I got three balls of this amazing chunky Rowan yarn from the warehouse at a really, REALLY, discounted price. I couldn't wait to get started.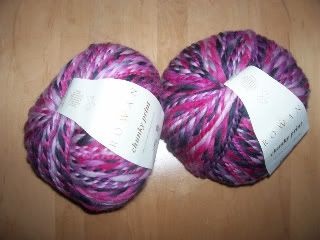 The only problem, I soon realized, was that I didn't remember how to cast on. I asked my friends to help me, so yesterday I finally started work on my scarf. We watched Hud with Paul Newman, ate cannolis, drank some wine, and knitted. It was hard. I had to really focus, so I hardly watched the movie at all. If I didn't give it my full attention, I'd get to the end of the row and find out that I had picked up two stiches somehow. True to the spirit of this blog I was definately ripping out stitches. A LOT of stitches. Its such pretty yarn...I couldn't stand for the knitting to be ugly. I think I finally have the hang of it now. I have two whole rows done ;) I spend about 4.5 hours on the bus each week, so I think I'll take my knitting with me when I go. That way I should be done in no time!
As I was knitting, I was wondering about the origins of knitting. Its a little bit bizarre. Who ever came up with knitting? Who figured out that you can make cloth by twisting thread around two sticks? SO anyways, I looked it up on
wikipedia
, so if you're interested, check it out.