Wow, thanks for all the blog comments and entries into my little giveaway. I've enjoyed reading the comments...keep them coming
here
!
I've been feeling less of a compulsion to buy fabric lately, so I think my strategy is working!!! Success!!!! I have discovered that it is vastly satisfying to use fabric from my stash. I've been working on my April blocks for
AQB2
, and just adding a few various scraps of fabric from my stash was exciting. It forced me to look at combinations I would have normally never considered, with great results (at least in my opinion). I learned, I grew, I made a mess of my room...there is currently fabric EVERYWHERE.
That being said, less of a compulsion to buy fabric certainly doesn't mean no compulsion to buy fabric. These beauties would tempt a saint. Seriously, Heather Ross is so unfair...her Far and Away collection is too cute for words. The only thing that keeps me from buying it is that its printed on cotton double gauze at a whopping $17 a yard. That is not a student friendly price. Boo...:( These are a few of my favs from the collection...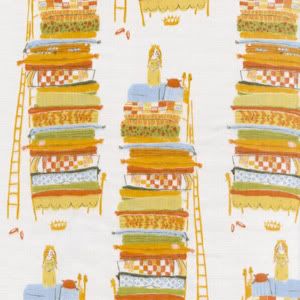 I've been very pleasantly surprised by all the peacocks popping up. Keri Beyer has her lovely collection, and I just discovered his little cutie today.
Its part of the Monaco fabric collection by Dena Designs for Free Spirit, and I think its my favorite peacock fabric so far! It reminds me of French manuscript marginalia...in a very good way. Interestingly, in manuscript iconography, the peacock is regarded as a symbol of new life and the resurrection. It is used metaphorically in the same way as the phoenix. I expect peacocks will feature prominently in my swap project that
the 6 o'clock stitch
is hosting. It's not too late to sign up!